Parent News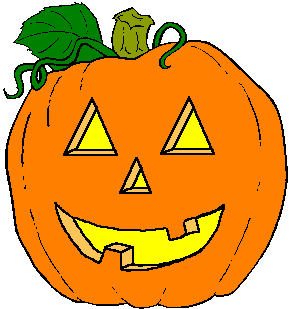 Trick or Treat
TRICK OR TREAT!?
You don't need a calendar to know that Halloween is lurking around the dark corner waiting to frighten us with the tons of candy our kids will soon have easy access to. We're not ogres (unless we choose to be for Halloween), but we know that there are some healthy alternatives to the sugar coated sugar that our kids will haul in by the pound on their Halloween trick or treating travels. We do admit to most often opting for the mega-sized bags of Twixt or Snickers bars (are four bags enough?) to throw at the monsters and princesses that coming calling. But this year, maybe we might consider something a little healthier and hope that the kids see the healthy alternatives as a treat and don't decide to come back later to "trick" us.
Dark Chocolate – If you really want to give out chocolate, make it dark (it IS Halloween, after all) Dark chocolate is a great source of antioxidants.
Yogurt or carob covered raisins or other dried fruit.
Pretzels
Fruit bars such as Fig Newton's or fruit roll-ups.
Halloween themed pens and pencils can be found at many stores.
You can probably come up with many more fun and/or nutritious ideas. Halloween is a time of year when it is OK to indulge in a little candy, and your kids WILL get their fill of sweets from their trick or treat travels. However, it doesn't have to be a horrifying proposition to give out healthy alternatives.
BEING ACTIVE IN THE FALL
The season changes from Summer to Fall and the temperature starts to dip. This is when we start to hear, "It's too cold to go out and play!" Remember, "It's too hot to go out and play!"? This is a great time to have a good store of ideas that are fun ways to get the kids (and you!) out of the house, around the house, and work off some of those Halloween treats.
If you just want to stay around the house, get the whole family involved in raking leaves. "We don't wanna do yard work!" You can make a game of it. Divide up into teams and see who can make the biggest leaf pile. Then, combine the piles for some leaf pile jumping. Note: a person that weighs 150 pounds will burn about 300 calories in an hour of raking leaves. Add a few more for jumping in those leaves! If your yard is completely covered in leaves, you might play with raking a leafy labyrinth and playing a game of labyrinth tag. After you have all the leaves raked up, gather some old clothes to stuff a leafy scarecrow to guard your front door from Halloween trick or treaters.
Of course, there's always that game of touch football, Frisbee throwing, and all the other yard games that this cool weather allows to redden the cheeks and get you and the kids moving and active.
This is a spectacular time of year to visit your local u-pick orchards for apples, squash and pumpkins. Here you can gather healthy snacks, pumpkin for the recipe below and get in a great walk while supporting a local farmer.
The whole point is, be active. Spring, Summer, Fall and Winter are all great times to play.